Search Larkspur Colorado Real Estate
Sorry, this account has been canceled -
Larkspur Colorado real estate is located south of Castle Rock CO.  It is probably best known as home to the Colorado Renaissance Festival held annually from the end of June throughout July. A small town as a municipality but has many surrounding high-end communities that include custom built homes, incredible mountain views and close proximity to Perry Park Golf Course and Club as well as the Bear Dance Golf Course and Club.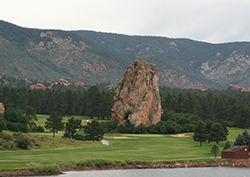 Perfectly located between Denver and Colorado Springs, Larkspur offers convenience to major front range cities with the flavor of Colorado mountain living too.
Larkspur Colorado Real Estate is located within the Douglas County School District.  Larkspur Elementary is grade K-6. Castle Rock Middle School and Castle View High Schools serve the Larkspur community.
The Town of Larkspur website will give you an introduction to the small wonderful town and all the activities.
About Larkspur CO Real Estate
Larkspur was originally called Huntsville.  It was named after Alexander Hunt who was the territorial governor.  In 1871, Huntsville changed its name to Larkspur when the Rio Grande Railroad established a stop there.  Larkspur is named for the wonderful purple flowers that grow in profusion.
Plum Creek, which runs along the east boundary of the town, flooded and destroyed much of the original town.  Larkspur was incorporated in 1979.  If you would like to learn more about Larkspur Colorado real estate history, visit the Larkspur Historical Society.
View Larkspur CO Real Estate Subdivisions
For more information about Larkspur Colorado Real Estate or homes for sale along the Front Range, call Marilyn Van Steenberg, Dream Home Consultant, Certified Residential Specialist, and Eco-Broker.
Specializing in Buyer Representation & Relocation Real Estate Transactions. 
View recently listed properties in Larkspur
Sorry, this account has been canceled -
Sorry, this account has been canceled -
View listings with recent price reductions in Larkspur
Sorry, this account has been canceled -