Denver Colorado real estate, along with all the real estate across the Front Range area, is known as the "Queen City of the Plains".  Once asked to describe Colorado, Teddy Roosevelt said, "The scenery bankrupts the English language."
Search Denver Real Estate
Sorry, this account has been canceled -
Denver Colorado real estate market offers housing and neighborhoods as diverse as its attractions, culture, and topography.
There are homes built in the 1800's in wonderful old Victorian neighborhoods such as the Baker Historic District, craftsman style bungalows in the Highlands area and Park Hill, multi-million dollar homes in the Denver Country Club area and condos and lofts scattered all over the city. Your dream home is in the Denver Colorado real estate market.
Homes for Sale in Denver
Denver is a young city by eastern standards. It achieved statehood the same year Alexander Graham Bell patented the telephone and the first pennant race in the baseball's National League.
It may be young, but is it exciting. It is full of energy and life. In the past 20 years, it has built Denver International Airport, a new baseball stadium, Coors Field, a new central library, added a stunning addition to its art museum, re-developed lower downtown which is the oldest section of Denver (LoDo) into a thriving community and it has a new light rail system.  Denver Colorado real estate in LoDo is fun as many of the homes are in old warehouses.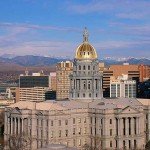 World leaders convene in Denver for conferences like the Summit of the Eight in 1997. Pope John Paul II came here in 1993 for the World Youth Conference and Denver was the host for the 2008 Democratic Convention.
However, Denver is still a "cow town", especially in January when ranchers and cattlemen converge on Denver for the National Western Stock Show. They compete in rodeos, buy and sell stock and exhibit their products. Men in 3-piece suits walk side by side with those in cowboy boots and hats.

Denver's foresight in the late 1800s and early 1900s created a fantastic system of parks and recreational areas. Not only did they set aside land for the city residents, but also mountain property for residents use in summer and winter.
Denver, Colorado real estate includes City Park which also houses the Museum of Nature and Science as well as the Zoo, the Denver Botanic Gardens, Washington Park and Congress Park just to name a few.  These parks attract thousands of visitors each year.
Mountain parks include Winter Park (skiing), Red Rocks Park and Amphitheater (wonderful concerts), Lookout Mountain (Buffalo Bill is buried here), Daniels Park to the south and Bergen Park in the Evergreen area.
Denver Colorado Subdivisions
Denver Colorado History
For more information about Denver Colorado Real Estate or homes for sale along the Front Range, contact Buyer's Best Choice Real Estate, your source for dream home consultants, certified residential specialists, and eco-brokers.
Specializing in Buyer Representation & Relocation Real Estate Transactions. 
View recently listed properties in Denver
Sorry, this account has been canceled -
Sorry, this account has been canceled -
View listings with recent price reductions in Denver
Sorry, this account has been canceled -