Sorry, this account has been canceled -
Mountain Homes in Conifer CO
Mountain homes in Conifer CO are spread out among the trees, just 15 miles southwest of Denver. The secluded homes in Conifer are far enough from Denver to offer residents a true mountain community experience. Nonetheless, Conifer real estate is close enough to enable homeowners to readily enjoy all that Denver has to offer.
A mix of rustic cabins and new, state-of-the-art Conifer CO mountain homes peek from behind expanses of blue spruce, pine, fir and aspen trees. A few of the many subdivisions in Conifer are Piano Meadows, Conifer Mountain, Aspen Park, Richmond Hill and Kings Valley. Kings Valley offers paved streets and public water and sewer services, whereas most other properties have a well and septic system.
Conifer CO mountain homes are, primarily, in Jefferson County.  The county does an excellent job of maintaining the roads during the winter.  Many communities band together and hire road maintenance people in those areas that are more remote.
Conifer CO Real Estate
What does stand out in Conifer is the town's abundance of natural beauty. The Pike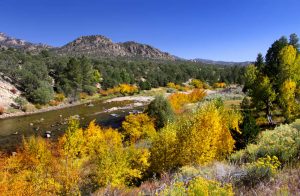 National Forest, which runs right through town, provides a home for deer, elk, foxes, birds, and rabbits. In the spring and summer, seasonal wildflowers carpet Conifer's hills. The city also maintains multiple parks.
Conifer has grown to meet the needs of its residents with the widening of Highway 285. The town is active and forward-thinking, yet it has a small town feel with all the urban necessities.
In the late 1860s, Conifer was known at Bradford Junction, a stop on the stagecoach road to South Park. When the railroad arrived in the 1890s, the area deteriorated.
In the 1920s, the area became known as Conifer. It has spectacular scenery and an abundance of wildlife. It was primarily populated by cattle ranchers.  Many of these early mountain homes are still standing on private property.
For more information about Conifer Colorado Real Estate or homes for sale along the Front Range, call Marilyn Van Steenberg, Dream Home Consultant, Certified Residential Specialist and Eco-Broker.
Specializing in Buyer Representation & Relocation Real Estate Transactions. 
View recently listed properties in Conifer

Sorry, this account has been canceled -
Sorry, this account has been canceled -
View listings with recent price reductions in Conifer
Sorry, this account has been canceled -