Search Centennial Real Estate
Sorry, this account has been canceled -
Centennial Real Estate
Centennial CO metro Denver homes offer a large variety of homes, townhomes, and condos. It is a must-see for anyone considering homes in the southeast Denver area. Centennial is metro Denver area's newest city, having been incorporated in 2001.
The City of Centennial was named in honor of Colorado's history as the Centennial State. It is a fully developed community that is adjacent to real estate in Aurora, Englewood, Foxfield, Greenwood Village, Highlands Ranch, Lone Tree and Parker CO.
Real estate in Centennial is bordered by Broadway to the west, past Liverpool to the east (13 miles). The northern border is Orchard/Belleview and the southern border is County Line Road.
Centennial, CO communities are extremely varied. Older
neighborhoods with large, mature lots, new housing developments, condos, duplexes, and townhomes. Prices are as varied as the housing styles. Centennial CO Denver neighborhoods include Arapahoe Estates, Homestead, The Farm, Piney Creek, Parkborough and Heritage Green.
The east side of the city offers Cherry Creek Schools, while the west side has Littleton Public Schools.
Centennial has a broad assortment of parks and facilities. The  South Suburban Parks and Recreation District provides a number of indoor and outdoor pools, tennis courts, golf courses, sports facilities and classes of all kinds.
Cherry Creek State Park is situated within the City of Centennial. This multi-use park has something to offer to everyone. Miles of biking and hiking trails, beach, boating, and waterskiing will make your day at the park fun and sun.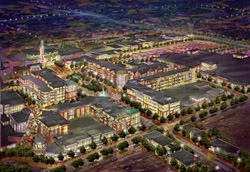 Shopping is plentiful. On the west side of Centennial is a new development called The Streets at Southglenn. You'll find everything you need on the east side at Aurora Southlands Mall.  There are a number of small boutiques scattered throughout the area.
Click on the link below to find Centennial, Colorado Real Estate Info.
Centennial Real Estate by Zip Code
Centennial Relocation Information
For more information about Centennial real estate and homes for sale along the Front Range, call Marilyn Van Steenberg, Dream Home Consultant, Certified Residential Specialist and Eco-Broker.
Specializing in Buyer Representation & Relocation Real Estate Transactions. 
View recently listed properties in Centennial CO
Sorry, this account has been canceled -
Sorry, this account has been canceled -
View listings with recent price reductions in Centennial CO Metro Denver
Sorry, this account has been canceled -